For a few months, I had been using an APX Pulsar dry herb vape as an alternative to smoking. Overall I was never really impressed with it and I didn't feel as if it was performing as a dry herb vape should. The effects were never very pronounced and it never produced a decent vape cloud until the temp was set to the max of 425F.
After doing a bit of research, I discovered that this brand is not a very good one and generally not recommended. With that in mind, I started looking for a new dry herb vape and eventually decided on the Healthy Rips Fury EDGE.
While there are a number of excellent dry herb vapes in this price range($120-$200), the EDGE had quite a few features that I found beneficial:
Hybrid oven offering convection heating
2300 mAh battery(double that of the Pulsar)
Multiple mouthpiece accessories

Water Pipe attachment
Bent glass

Stainless steel chamber
Full glass airway(when using adapters)
Precise temperature control
Compact size
Pre-fillable dosing capsules
I also checked the Vaporents subreddit for their recommendation and reviews. After a quick search for the Edge the decision was made. I placed an order and surprisingly it arrived only 2 days later!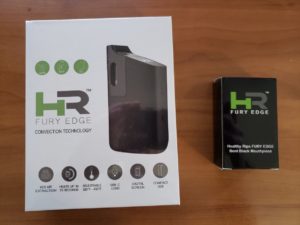 Inside the box was the EDGE and a number of accessories to take care of the unit.
After opening the box I followed the manufacturer instructions of charging the unit and running it for a full cycle to burn off any residue.
My first session with the EDGE was using some Deschutes flower from Upstate Hemp Co. Following the instructions, I placed the ground flower in loosely and filled the chamber roughly 3/4 of the way. I set the vape temp to 386F and started the session.
I was completely blown away on the first pull. It was incredibly easy to draw from the device and the vapor was very smooth. A decent vapor cloud was produced and I continued taking several hits for the remainder of the session. The one downside to this device is that each session is timed for 5 minutes regardless of vapor being drawn or not.
The effects of the Deschutes flower were very pronounced and noticeable within the first several minutes. The EDGE also provided a consistent flavor experience of the flower for the duration. The flower itself lasted about 1.5 sessions before being completely browned, the flavor profile changing roughly half way through the second session.
Overall this was a major upgrade. From the flavor to the consistent flow of smooth vapor, the EDGE opened up a whole new dimension to enjoying cannabis flower.