So, we started off the 2021 legislative session with the usual promises of the past 2 years; this year we're "committed" to legalizing and that it was a "priority" for Gov. Cuomo. Nothing much changed at first, legislative leaders wanted to pass their MRTA while Cuomo wanted the CRTA to pass as part of the budget process. They seemed to be locked in a stalemate, again.
This all changed due to other issues Cuomo was suddenly facing. First, he is under accusations that he directed officials to report different nursing home COVID death numbers. Second, he is also facing several sexual harassment accusations. Both of these, combined, are adding significant pressure on Cuomo to demonstrate he can effectively lead. Using this pressure, legislative leaders were able to finally negotiate the details of a legalization bill that both houses and Cuomo agreed on.
At around 10PM on March 27th, the final bill text was released. While I don't think the bill is perfect, I see it as a good compromise with the following highlighted details:
Automatic expungement of criminal records for things that are no longer crimes
Homegrow is allowed with a maximum of 6 plants

Homegrow is delayed until 18 months after the first recreational shop opens
Final regulations for homegrow will be provided by the Office of Cannabis Management(so, it could still be overly restricted).

Employment protections remain for off-work cannabis use
Strong provisions for equity and social justice measures
Adults can possess up to 3 ounces of cannabis outside of the home
The odor of cannabis is no longer a reason for searches
As of this writing, the bill is starting to make its way through committees with a planned vote as early as Wednesday the 31st.
While all the news of legislative leaders and Cuomo agreeing on the bill and promises that it will pass, the biggest tell is when the prohibitionists start admitting defeat: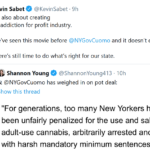 So congrats, NY! We're finally going to have legal cannabis! Smoke one if you got one!